THE IDEA
The idea of starting Arctic Living Ilulissat originated in the autumn of 2017 as we discussed the fact that we feel the world is changing along with the climate conditions is changing here in the Arctic. These factors have had a great impact on the number of Greenlandic sled dog's, especially here in Ilulissat. The number of sled dogs in the last 10 -15 years has decreased from over 3000 to under 2000. The snowmobile has taken over many of the tasks from the sled dogs, which in the old times was used as a means of transportation for fishing and hunting. For several years the Government, the Greenlandic sled dog organisations, and also the dog owners have considered, what can be done to save this magnificent type of sled dog. As owners of a sled dog team of at least 30 dogs, we also considered what we can do to support this matter. We quickly came across the idea of showing the dogs in a sled dog center, especially designed for this purpose. In doing this, the tourist can see the dogs up close in the summer, while also offering sled dog trips from this center during the winter. It is also our vision to show our dogs for the school students and we also are planning to invite local fishermen to tell their story and show their skills to our guests.
ACKNOWLEDGEMENT
Together, we have almost 50 years experience of mushing in Greenland. We have driven dog sledge in several parts of Greenland, ranging from Siorapaluk /Qaanaaq in the North to Qasigannguit in the south. We therefore have a great understanding of what it means to be out in the nature, and also which different weather and ice conditions there can be in the different areas. Currently, we are settled in Ilulissat on the west coast of Greenland and our kennel is placed by the Sermermiut road on the way to the famous Ilulissat Icefjord. The Icefjord has been a "UNESCO World Heritage Site" since the summer of 2004.
TOP PRIORITIES
It is our vision to give our you an outstanding experience of how we feed, treat, train and ride with our dogs. All that, along with your safety, and also not at least our dogs in mind. Therefore, our dogs, facilities, and equipment will be well taken care of and always kept in a good condition.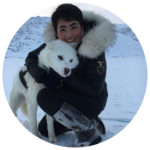 Ane Sofie Lauritzen, owner
Anso with the lead dog "Arnaq".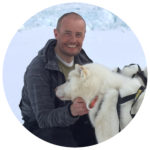 Flemming Lauritzen, owner
Flemming with the old team dog "Kulumpa".